My Boat
---
Picture of boat upon arrival at home on September 22, 1997.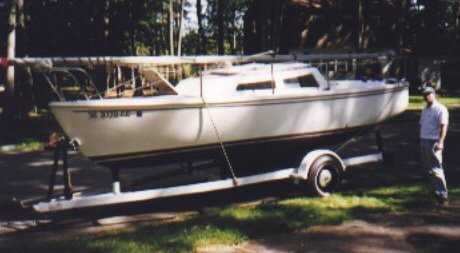 The day to bring my boat home finally came, September 22, 1997. The boat had been stored on stands in the previous owner's yard, and had to be placed on my 'new' trailer. I hired a crane from the same boat moving company that the previous owner used. The crane would lift the boat off of the stands and on to the trailer, and then retrieve the boat stands.
The crane had a bit of difficulty maneuvering into the owner's back yard, but other than that, everything went smoothly.

Picture of boat parked in the yard
I would spend the winter and spring checking everything out and preparing our 'new' boat for its maiden voyage

---
Scorecard: In the Final Analysis, How Did I Do Versus My Requirements ?
| | | |
| --- | --- | --- |
| Item | Requirement | Comments |
| 1 | Porta-Potti | Yes - Good working condition. |
| 2 | Galley | Yes - Slide Galley (original option with boat) stove, sink, ice chest and 5 gallon water tank all in one unit that slides under the starboard cockpit seat when not in use. |
| 3 | Late 1970's or newer | 1982 model. I saw a 1983 model, but it was not in as good condition as this boat. |
| 4 | Swing Keel | The boat has a cast iron swing keel which draws 5 feet extended and only 2 feet retracted. The keel weighs 550 lbs (ballast). The ballast to displacement ratio is 0.24 , which could be a little higher, but would suffice. |
| 5 | Outboard Motor | Yamaha 8 hp long shaft - excellent condition, recently serviced. I stored the motor over the winter and it started right up the next spring. |
| 6 | $X,000 or less | The boat was less, the trailer (purchased separately) brought it up to my number. |
| 7 | Accessory Items | Full Railings (Bow & Stern) & Life Lines, Swim Ladder, VHF w/ mast top antennea, Wind Indicator, Fog Horn, Winch Handle, Anchor, some Safety Equipment. This was one of the few boats that I saw that had a full compliment of railings/life lines. The boat has a pop-top and also included the vinyl cover for the pop-top. A compass was included; it had a special mounting bracket on the sliding hatch to the cabin top. |
| 8 | Good Working Condition | Overall, the boat was in excellent shape. Everything on the boat was in good working order, the tiller had been refinished, the rigging/tackle was of substantial size and in good condition. The standing rigging was in good shape, and the swing keel cable was in good condition. The compliment of 3 sails - main, std. Jib, and a 150% Genoa - was in good shape and included storage bags. The cushions were original and in good condition, and also included a set of cockpit cushions. The electrical wiring was only in fair condition, but included wiring in the mast for the steaming light and the antennea. The teak trim needed to be refinished, but that was real easy to do. |
| 9 | Manufacturer in Business | The Catalina 22 has been in production since 1969 and has gone under continous improvements throughout its 25+ year life. The 1982 model year incorporated design improvements made in its first 10 years of production. Support is available through Catalina Yachts directly or Catalina Direct (an independent supplier of Catalina Parts and Technical Support). There is a large national owner's association. |
| 10 | Trailer | The boat had been kept in a slip and professionally moved/stored each season. The previous owner did not have a trailer. I managed to find a matching trailer on my own, as described on the Trailer page. |
Overall, I believe I did pretty well versus my requirements. I think the strong points were the overall condition of the boat and the significant amount of accessory items and options included. This would be a big money saver down the road, and I consider myself fortunate to have found such a boat. There were only a few items that needed attention, as mentioned above, which is typical for any boat.
As advice to anyone looking for a sailboat (new or used), I would recommend putting together a list of requirements, then searching for and selecting the boat that best meets those requirements. I would also put key emphasis on finding a boat with the desired accessory items and options, as these items are more costly to add to a boat afterwards.
Follow the

---
---